For Sale:
For Sale: Paul Antes' Estate The collection of John Deere tractors and equipment:
Restored tractors with weights, fenders, and 3- point hitches: 630W, 530T, 520T, 430U, 420T
John Deere 3-Point Plows: Model 810 cat II (2) 3-14",3-16", cat I 2-16", Model 412 cat I 2-14", Model 415 cat I 2-14"
Weights: Front 3 piece weights for 40/420/430T. 1 side weight for 40/420/430T. Front weights for 40/420/430U, Front weights for 520 thru 730.
Additional Equipment: Mower JD #8? operating condition, Blade 3-point JD #80, Box blade 6ft.
Serious inquires only, contact Bob Antes at 816-863-9966 or bantes@att.net
______________________________________________________
FOR SALE OR WANTED LISTING FROM WESTERN FARM SHOW FEBRUARY 23-25, 2018
ITEM SALE/WANTED NAME/TELEPHONE NO.
Unstyled JD G Wanted Charles Catron(816/383-1851)
JD M and Equip. Sale Bill Eagleburger (816/322-2546)
Rear Weights- M962T Sale Gale McDonald (785/364-3204)
70 G Row Crop Sale Lyna Mathews (816/714-9484)
JD 420 W Sale Mike Lucas (816/293-5819)
JD A Sale Bob Fine (816/863-3882)
JD B Sale Bob Fine (816/863-3882)
JD A-open fan Sale Jim Zumsty (660/366-4200)
JD Combine 45 with platform Sale David Hollenberg (573/682-7199)
JD MT Sale Gaylen Potter (660/646-8383)
______________________________________________________

John Deere 70 LP-GAS. Older Restoration, Runs Good,
801 3 point hitch, Factory Wide Front End, Good Tires. $4500
George Reed 913-377-2048 (11/16)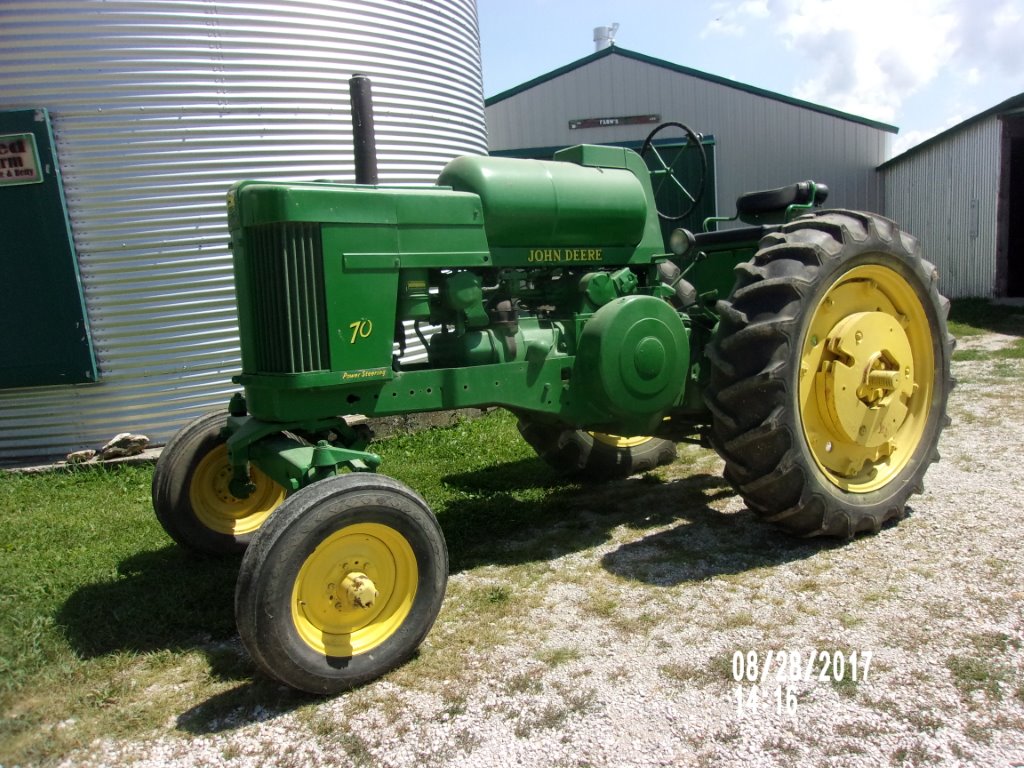 ______________________________________________________
GKCTCC Club Shirts: Interested in ordering a club shirt? Call Don Hrabik at 913-262-5904 (Tax included.)
Shirt w/o pocket: S-XL = $14.00, XXL = $16.00, XXXL = $17.00
Shirt with pocket: S-XL = $16.00, XXL = $18.00 XXXL = $19.00
Hooded Sweat Shirt w/o name: S-XL = $17, XXL = $18
Hooded Sweat Shirt with name: S-XL = $22, XXL = $23
Make checks payable to Don Hrabik
______________________________________________________